Toyin Lawani, a top Nigerian designer and stylist, maintains that when it comes to creating trends, she has everything under control and will not tolerate disrespect.
The Tiannah Empire CEO recently responded to claims that Kylie Jenner's recent appearance would be an inspiration to her.
Toyin posted a video of Kylie from the fashion show along with a post about how she did something similar first but was trolled rather than hailed.
Part of what she wrote reads:
"Some said this on the second slide, had to check erm. I don't know why Nigerians don't appreciate good art until they see an international celebrity wearing it, then it's wow wow wow it's nice. I'm A Trendsetter, I say this all the time. I remember the first time I did something similar for @sholzy23 in 2019 for his reunion outfit, They didn't let me rest. They trolled all the way on Twitter, Same has for @femiadebayosalami for king of thieves."
Watch the video below:
Internet users react to Toyin Lawani's post about Kylie Jenner's lion-head dress
hermesiyele:
"Let 'em know Aunty mi, king no be for mouth.. you've more than earned the title."
zion_omofolawe:
"I'm still waiting for the day Nigeria will appreciate their own, I barely watch Nigeria movies, I love American and British epic, anytime I watch the first thing that come to my mind is, Tianah should have been the one styling this people , cos most of their wears are something you have done in the past, like dem dey learn…Tianah is not just any brand, sis, Hollywood go sign you this year o…. Nigeria don't know what they have yet, until you're on that big stage."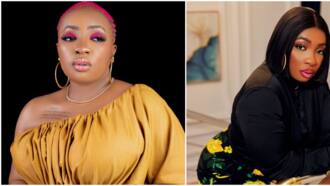 trendyowambe:
"Everyone gets inspiration from somewhere. I first saw this in coming to America in the early 90s . Lots of celebs have worn it after that . Search African lion head fashion on google and you will see it that it's been reigning for decades."
mhizadedam:
"If people still doubt you at this time, then they are ntn but dimwits. Even the blind can see and deaf can hear about your works. You've earned your flowers Ma. Take it and more cause you deserve it❤️Not called KOF for ntn pls."
gness_ah:
"You've definitely built a world for yourself! Not everybody has to like your niche in fashion. But saying, you don't do an amazing work is pure hatred!"